Page 3 - Hamilton 2020-2021
P. 3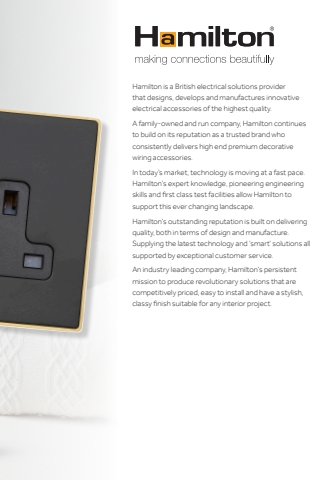 Hamilton is a British electrical solutions provider that designs, develops and manufactures innovative electrical accessories of the highest quality.
With a vast product range including decorative switch plates and sockets, smart lighting control, new wireless audio devices and 18th Edition consumer units it is a one-stop shop for all wiring requirements for both the residential and hotel industries.
A family-owned and run company, Hamilton continues to build on its reputation as a trusted brand who consistently delivers high end premium wiring accessories.
In today's market, technology is moving at a fast pace. Hamilton's expert knowledge, pioneering engineering skills and first class test facilities allow Hamilton to support this ever changing landscape.
Hamilton celebrated a fantastic milestone in 2018 when the business reached its 50th anniversary.
It operates under the direction of Ian Hamilton and
has grown since its inception to employ over 150 customer-focused staff and distribute its class-leading solutions around the world.
Hamilton's outstanding reputation is built on delivering quality, both in terms of design and manufacture. Supplying the latest technology and 'smart' solutions all supported by exceptional customer service.
An industry leading company, Hamilton's persistent mission to produce revolutionary solutions that are competitively priced, easy to install and have a stylish, classy finish suitable for any interior project.